Renegadesfp

Coach

Registered: 2016-06-20

Posts: 480
Renegades 2020 Tournaments
Renegades Fastpitch 2020 Tournaments
All Tournaments located in Central New Jersey in the Flemington, NJ Area.
All Tournaments low cost and all Open!
www.renegadesfastpitchregistrations.com
May 9-10 Mother's Day Clash- 10U, 12U, 14U
10U-12 Teams, 12U-16 Teams, 14U-16 Teams
May 23-25 Memorial Day Weekend 14U Blast- 64 Teams 7 Games
With Everyone looking for something we have 4 Complexes within 20 minutes of each other. Let's battle it out in Central Jersey.
June 6-7 Beat The Best To Be The Best
10U, 12U, 14U, 16U
10U-12Teams, 12U-16Teams,
14U-16 Teams, 16U-16 Teams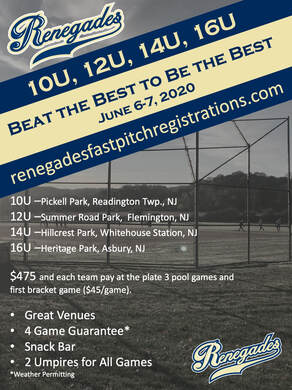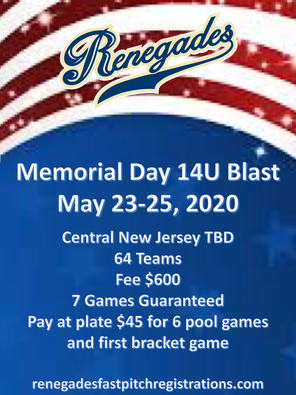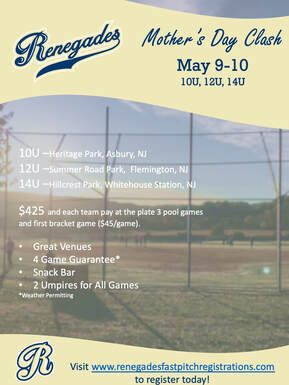 Renegadesfp

Coach

Registered: 2016-06-20

Posts: 480
Re: Renegades 2020 Tournaments
Renegadesfp

Coach

Registered: 2016-06-20

Posts: 480
Re: Renegades 2020 Tournaments
Renegadesfp

Coach

Registered: 2016-06-20

Posts: 480
Re: Renegades 2020 Tournaments
Renegadesfp

Coach

Registered: 2016-06-20

Posts: 480
Re: Renegades 2020 Tournaments
Renegadesfp

Coach

Registered: 2016-06-20

Posts: 480
Re: Renegades 2020 Tournaments
Renegadesfp

Coach

Registered: 2016-06-20

Posts: 480
Re: Renegades 2020 Tournaments